This beautiful Indian Sandstone tiled floor was laid throughout an open plan Kitchen, Dining and Lounge in a house in Guilford. The floor was in need of a deep clean and seal so we called round initially to survey the tile and grout and provide a quote which was accepted.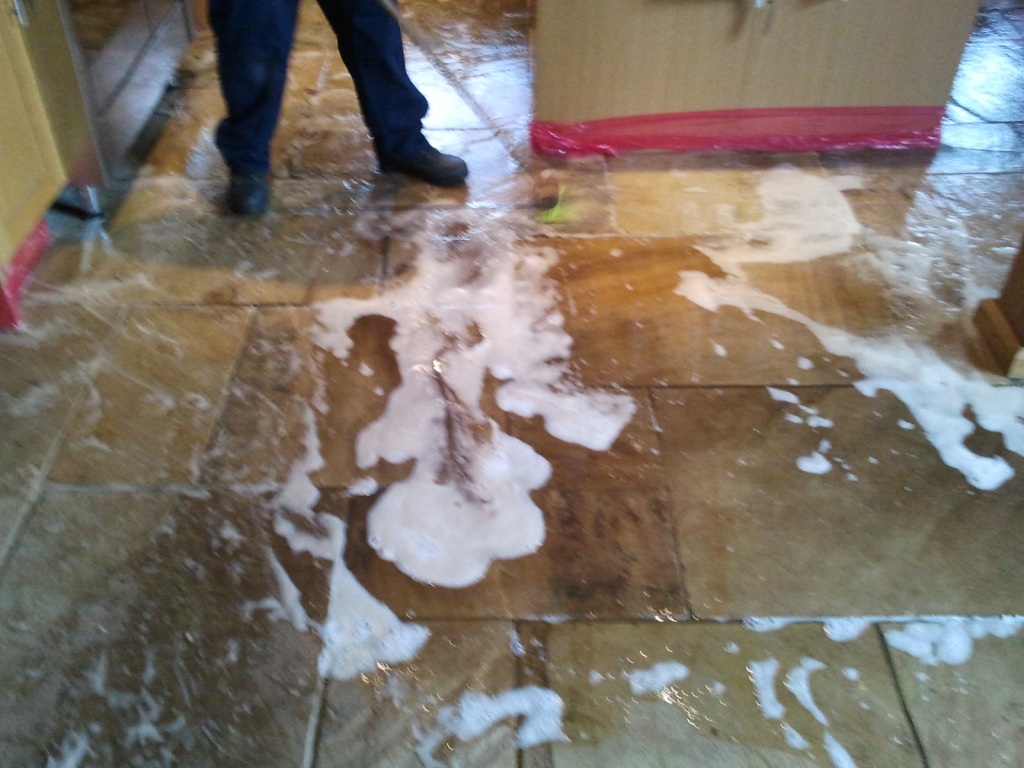 Cleaning Indian Sandstone
To clean the floor we used a solution of Tile Doctor Pro-Clean which is a flexible strong alkaline cleaner specially designed for use on stone floors mixed 50/50 with Tile Doctor Nanotech Ultra-Clean which contains tiny abrasive particles. This solution was left to dwell on the floor for thirty minutes before being worked into the floor with scrubbing brushes. We then used a tile spinner tool and truck mount cleaning system to rinse the floor of all residue soils and chemicals, the floor was covered with dust sheets whilst it dried and also to keep it clean until we came back to seal it.
Sealing Indian Sandstone
On our return we discussed the effects of different sealers, they all offer stain protection to different levels but change the appearance of the tile in different ways. The customer liked the natural look of the stone so we applied Tile Doctor Ultra-Seal using three coats of sealer to fully seal the tiled floor; Ultra-Seal is also a penetrating sealer that gets deep into the pores of the stone. The customer was delighted with the result and we have been asked to return every year to maintain the floor.
Indian Sandstone Floor Maintained in Guilford
Beautiful Indian Sandstone floor deep cleaned in Guilford